He was an immediate success, capturing the World Championship within a year of his debut in the sport. He became the biggest name in all of professional wrestling until an injury threatened to cut short his career.

Bill Goldberg
Real Name: William Scott Goldberg
Stats: 6′ 4″ 295 lbs.
Born: December 27, 1966



Bill Goldberg followed in the long path of wrestlers who have made the transition from the gridiron to the squared circle and become a wrestling star – he just did so faster and to a greater magnitude than anyone else in history. In only his second year in the business, Goldberg became the biggest name and biggest star in the business.
Bill Goldberg was never a wrestling fan growing up, but instead focused most of his attention on football. An excellent player in high school, Goldberg starred as an All-SEC Nose Guard at the University of Georgia. When his career as a Bulldog was over, he eyed stardom in the National Football League. After spending time with the Los Angeles Rams and the Sacramento Surge of the World League of American Football, Goldberg signed on the the Atlanta Falcons in 1992. After two years with the team he suffered a torn abdominal muscle which put him out for the 1994 season. He was signed by the Carolina Panthers in 1995, but could not rebound from the injury sufficiently enough to play. He was thus forced to retire from football.
[the_ad id="481″]While in a bar a year later, Goldberg met Diamond Dallas Page. Page was impressed with his size and look and recommended that he take a look at a career in professional wrestling. Later, Goldberg was working out in a gym owned by Lex Luger and Sting and was further convinced by Sting to take a chance in the squared circle. After months of training in the WCW Power Plant, Goldberg appeared in a nationally televised fight against Roddy Piper. Months later, he made his official professional debut in World Championship Wrestling against Hugh Morrus, pinning the 300 pound wrestler. The next year and a half would be one of the most remarkable in professional wrestling history.
Goldberg began quickly mowing down his opponents with his patented spear and jackhammer combination. Eventually he got his chance at the gold when he wrestled Raven for the WCW United States title. Showing little nervousness in his first title match, he quickly overpowered Raven and pinned him for the title belt. With his reputation and winning streak growing, everyone looked forward to a showdown between Goldberg and Hollywood Hulk Hogan for the WCW World Heavyweight championship. In front of a red hot crowd in Atlanta, Georgia on July 6, 1998, Goldberg speared Hogan and then hit the Jackhammer to obtain the pinfall. With the championship belt around his waist, he was now the biggest name in the sport and finished the year as the PWI Rookie of the Year.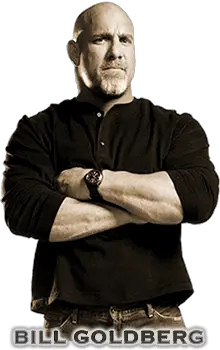 Over the next year, Goldberg found himself battling members of the NWO and other wrestlers striving for his title. Finally, Kevin Nash, after interference from Scott Hall (who used a tazer on Goldberg), was able to pin the champion. Goldberg subsequently placed himself in a hunt to reclaim his gold, often taking on various factions of the NWO. During one of these confrontations, Goldberg ran out into the parking lot of an arena and punched his fist through the windshield of a car. In doing so, he suffered a cut to his arm that took almost 190 stitches to close and which almost hit a nerve, seriously placing his career in jeopardy. For almost six months he was forced to the sidelines and relegated to making publicity appearances and participating in the many charities supports. Finally after a lot of speculation that he might not be able to make it back to the ring, he did so in June 2000 to a great ovation from his fans.
Bill Goldberg became the biggest name in professional wrestling and was able to utilize his notoriety to obtain roles in Hollywood features and appearances on television shows. Now, returning from a severe injury, fans wait to see whether he will once again rule the ring as he once did.