He was so beloved by his fans that they elected him to the Japanese parliament after he retired from the ring. What he did inside of the ring made him a respected statesman and a great champion for professional wrestling.

Antonio Inoki
Real Name: Kanji Inoki
Stats: 6′ 1″ 240 lbs.
Born: February 20, 1943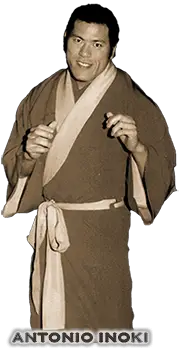 Antonio Inoki is one of wrestling's all-time greatest competitors, teachers, and promoters, as well as serving as wrestling's Ambassador to the World. The noble and refined inoki has made it his career-long goal to bring respect to, and acceptance of, puroresu (Japanese pro wrestling) in the mainstream. Although some accuse Inoki of having the biggest ego in wrestling, eclipsing even the Hulkster…those people could not be further from the truth. The reality is, Inoki is a man with a vision…and, oftentimes, if you want something done right, you do it yourself. Inoki has done more to help wrestling than nearly anyone in the history of the sport. He loves pro wrestling deeply…and even used the slogans "King of Sports" and "Civil Rights For Puroresu" as the mottos of New Japan Pro Wrestling when he started the federation in 1972.
[the_ad id="481″]Many times throughout his career he has faced champions of other sports (Judo Gold Medal winner Willem Ruska, World Karate champion Willie Wlliams, Boxer Chuch Wepner, and of course, Muhammed Ali back in 1976) in an effort to bring credibility to the sport of wrestling. As a promoter, Inoki is a genuine trailblazer — bringing pro wrestling to countries like Russia, China, Korea, and Taiwan that had never had a pro wrestling event in their country, or even seen the sport on TV. The two cards he promoted in Korea drew crowds (with a little help from the Korean gov't.) of 150,000 and 190,000! Talk about bringing wrestling to the world…
He was born Kanji Inoki on Feb. 20, 1943. On September 30, 1960 he made his pro wrestling debut, losing to Kintaro Ohki. The name "Antonio" is said to have been given to him by his mentor and hero Rikidozan, after the legendary Antonio Rocca. Before forming N.J.P.W., Inoki wrestled for the N.W.A.'s Japan Wrestling Association (J.W.A.). During those years, he gained valuable experience and learned great deal about the sport. But in 1966, he decided to try wrestling for Tokyo Pro, a rival of the JWA. Inoki's relationship with Tokyo Pro didn't last long, though, and by 1967 he was back with the JWA until he left to create New Japan Pro Wrestling in 1972.
[the_ad id="482″]During his long and successful career, Inoki won numerous titles…the NWA Texas Heavyweight title (under the somewhat insulting name of Tokyo Tom) in 1964, the NWA (Texas) World Tag Team title in 1965, the NWA (Tenn.) World Tag Team title (w/Hiro Matsuda), 4 All-Asian Tag Team titles (w/Michiak Yoshimura), 4 NWA International Tag Team titles (w/Giant Baba), and the NWA United National title in 1971. He also went on to win the National Wrestling Federation (N.W.F.) World Heavyweight title 4 different times between 1973-1981 as well as the N.W.A. North American Tag Team title twice, the U.W.A. (Mexico) World Heavyweight title, and also the I.W.G.P. Heavyweight championship, among others. And of course, in 1976 he fought his famous (although somewhat disappointing) "Boxer vs. Wrestler" match with World Boxing champion Mohammed Ali. Although the match was fairly uneventful, it did give pro wrestling an aura of legitimacy.
In 1979, Inoki was involved in a very controversial title switch involving Bob Backlund and the WWF Heavyweight title. On November 30, 1979 in Tokushima, Japan, Backlund was pinned by Inoki for the WWF title. The next day, the two wrestlers had a rematch, and this time Backlund regained the title. However, the WWF President Hisashi Shinma declared the match a "no-contest" because of interference from Tiger Jeet Signh. Shinma awarded the title back to Inoki, who refused to accept the championship. A match between Backlund and "Big, Bad" Bobby Duncum (of all people) on December 12, 1979 in New York City took place to decide the winner of the "held up" WWF title, with Backlund winning.
Ironically, American fans never knew of the controversy in Japan, and thought the Backlund/Duncum match was just a regular monthly title defense for Backlund. The WWF has never acknowledged the title switch, and to this day does not count Inoki as a former WWF Heavyweight champion.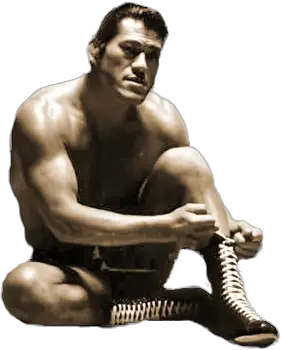 During his career, Inoki also won an incredible 19 tournaments in Japan, defeating dozens of top wrestlers including Tatsumi Fujinami, Dick Murdoch, Andre The Giant (twice), Stan Hansen (4 times), and Sting. Truly, there are few performers (in Japan or the U.S.) who achieved the level of success and respect that Inoki garnered.
The Ring Chronicle is proud to induct the wrestling champion, expert promoter, and statesman Kenji "Antonio" Inoki into T.R.C.'s Pro Wrestling Hall of Fame…………
By Steve Slagle